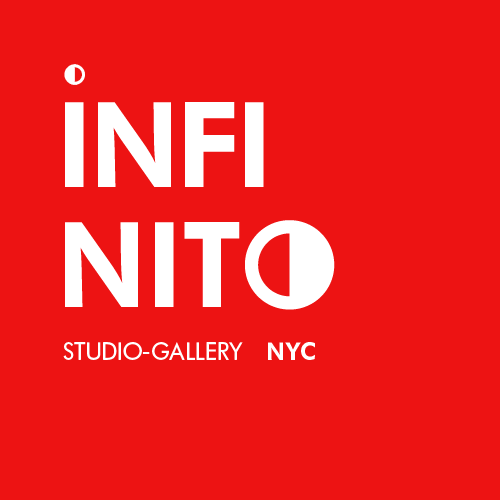 TWO PIONEERS OF NEW YORK STREET ART
PAOLO BUGGIANI - KEN HIRATSUKA
© 2015 TRIBECA UNDERGROUND
ALL RIGHTS RESERVED . CREDITS
FOLLOW US ON:
FACEBOOK
TWITTER
ISTHAGRAM
TRIBECA UNDERGROUND
79 LEONARD STREET
NEW YORK, NY 10013
+1 (212) 925-7345
BY APPOINTMENT ONLY
© 2015 INFINITO
ALL RIGHTS RESERVED
Paolo Buggiani
is an Italian-born painter, sculptor and performance artist who has been active for over 60 years in both Europe and the Americas.
His career took off in the mid 50s in Rome when he was invited to partecipate to the 1st Summer Salon (1° Salone d'Estate) along with some prominent artists of the
Roman avantgarde, such as Accardi, Burri, Cagli Capogrossi, Colla, Franchina, Mannucci, Mirko Novelli, Perilli, Rotella, Turcato and Uncini. The year after, he had his first solo exhibition at the Schneider Gallery of Rome.
In Paris, in 1958, he met with Severini, Matta, Victor Brauner and Vilfredo Lam who introduced him to the gallery Glasier-Cordiè who gave him a one-man show.
He moved to New York in 1962, and was awarded a Guggenheim Fellowship with his experimental sculptures using his own vacuum forming system.
During the following decade, Buggiani worked in both, Italy and the United States creating "Ephemeral Sculpture in Motion", "Fire" (a performing art installation), "Paintings over Reality" (landscapes photographed through painted crystal), and "Wearable Art" (handpainted jumpsuits).
In 1978, he began his Mechanical Reptiles and Urban Mythology work series, placing his sculpures all over New York public places, and gaining him wide recognition as one of the most important members of the New York Street Art Movement, along with Keith Haring, Richard Hambleton, Ken Hiratsuka, Linus Coraggio, and R.V. (Robin Vanarsdol).
Along with his paintings and sculptures, Buggiani is best known for his fire performances and installations in many European and U.S. cities as well as Sydney, Australia and Cartagena, Colombia.
Today Buggiani is regarded internationally as one of the most independent contemporary artists.
Labyrinth (Florence 1974)
Metallic Creatures (New York 1985)
Driving Street Art (New York 1981)
Rivington School (New York 1984)
Attack to the Intrepid (N.Y. 1984)
Ken Hiratsuka was born in Japan, and graduated from Musashino University of Art in Tokyo.
In New York City from 1982, Hiratsuka received a fellowship from the Art Students League, and later began carving the slate and granite sidewalks of the city. His work is unique because he carves the stone with one single continuous line, a statement of the art capacity to transcend the differences of nations and languages.
Hiratsuka has been commissioned to sculpt city sidewalks, building facades and entrance-ways, water
sculptures and gardens in nineteen countries, and his work is also part of museum collections in Finland and Japan.
In 2008, Hiratsuka completed a onehundredfoot-long granite sidewalk sculpture commissioned by Goldman Properties for 25 Bond Street, NYC. His other public monuments can be found in Guilin, China; Rio de Janeiro; Cowra, Australia; and Gobi Desert, Mongolia.
From the inner city, to the desert, to the coastline, Hiratsuka's stone works are characterized by maze-like designs of infinite variation, always formed by one continuous line that never crosses itself.
Hiratsuka often refers to his works as "fossils of the moment." They are both modern and ancient, a symbol of human communication through universal language on the surface of the earth as one huge rock.
"I hope that those who see my work will discover new aspects of life, deeper levels of experience of which they may be only dimly aware. I want to inspire people to become more conscious of nature and our common humanity. No matter how lifestyles change, the basic self remains the same. I want to help bring human beings together. In my art there are no social, economic, cultural or political distinctions. We are all one."
Ken Hiratsuka