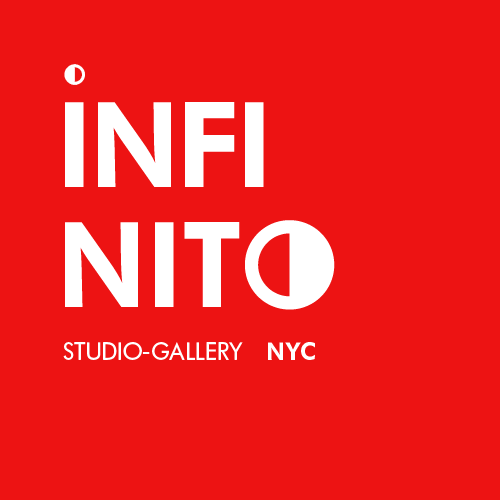 TWO PIONEERS OF NEW YORK STREET ART
© 2015 INFINITO
ALL RIGHTS RESERVED
INFINITO Studio-Gallery is pleased to announce an exhibition of sculptor
SEQUOYAH AONO
EVIDENCE OF EXISTENCE
March 31st - April 8th, 2016
Opening reception: Thursday, March 31st, 2016 (6pm - 9pm)
Gallery hours: 11am - 7pm, by appointment only:
(212) 925-7345 / (917) 499-1292
ABOUT THE SHOW
Identity is the way we perceive and express ourselves. Factors and conditions that an individual is born with and experience over a lifetime, often play a role in defining one's identity.
In the show "Evidence of Existence", Sequoyah Aono's work reveals extensive introspection - replete with curiosity and anxiety - into the apparently conflicting realities of the two worlds that have shaped his identity.
Born in the U.S., yet raised in Japan by his Japanese mother, Sequoyah Aono returned to live in the U.S. in 2008, after earning a Master of Arts in Sculpture at Tokyo University.
His show at INFINITO features various works from "Self-Portrait" and "Black Gaze.", Both of these series, and the works within them, reflect his cultural ambivalence -his questioning of what it means to be half Japanese and half American - and the search for a new identity.
ABOUT THE ARTIST
Born in a U.S. Navy Base in Italy, grown in Tokyo, Japan. MFA in Sculpture, Tokyo University of the Arts 2007. Lives and works in New York.
His awards include: Roger T. Williams Prize - National Sculpture Society; Yoshino Gypsum Art Foundation for ISE NY Exhibition (Japan); 3rd Prize Smithsonian national Portrait Gallery (Wash, DC); National Endowment for the Arts Grant (USA); 1st Prize 2nd International Sculptors Symposium in Ahrntal Valley (Italy); Grants for Overseas Study - Pola Art Foundation; ISE Cultural Foundation Award; Arakawa Award and the Tokyo Governor Award.
"I imagine a scene in which we're all marching and riding against the tide of our times-a wave of rules and regulations that exist so as to prevent social collapse. Although the rules are intended to maintain public order and control greed, they seem like games manipulated by an unknown someone. In other words, our march leads either to victory or defeat. We cannot start over: this is completely inconsistent with the rules.
I try to convey this feeling through my carvings. I wonder if we are all figures on a large, complex game-board-one that, instead of being fixed in shape, shifts and changes, almost as if it were a living, wily creature itself. I wonder if such a board might suddenly collapse, or fall away, while I'm earnestly searching for the hidden truth beyond it.
In pursuit of this goal I'm seized with inexplicable anxiety and doubt about my own existence. I strongly need to confirm who I am and why I'm here.
In our modern society, so full of news, images, texts, blogs, social media, PC's, the Internet, cell-phones, and so forth, we try to confirm our existence-yet without truly communicating with each other. While it may be convenient to know everything about one other without socializing face-to-face, I fear that this degrades what is in our hearts-our deepest feelings-and that eventually we may start to act like robots.
From this simple, even primitive, thought, I try to confirm my existence by carving self-portraits. My carving is a path to myself, and one that I hope may connect deeply with the viewer."
Sequoyah Aono
Please visit sequoyahaono.com for more information on the artist.