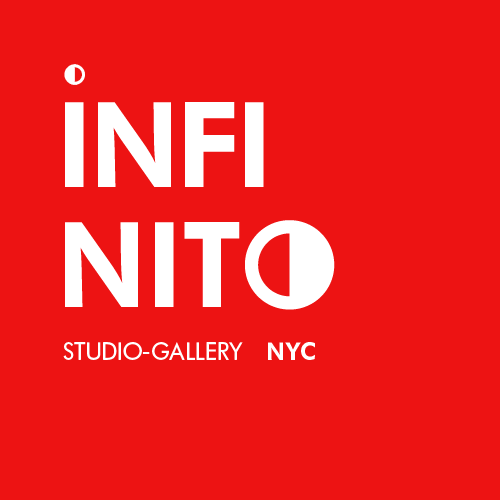 TWO PIONEERS OF NEW YORK STREET ART
© 2015 INFINITO
ALL RIGHTS RESERVED
ABOUT THE SHOW
BALLS is a series of new stone sculptures by Ken Hiratsuka.
Like planets on an intergalactic map, these elliptical forms turn the gallery into a galaxy of Hiratsuka's One Line Universe.
Hiratsuka's original vision is "to carve the earth as one huge rock." Each work in this series is a unique hand-carved variation of that vision, inscribing a memory of the human being like a permanent illusion -- Hiratsuka also calls it "one line floating on black matter" -- a specific moment of time-space-matter revealed through the artist's hand.
The Balls Series presents a singular opportunity for collectors to become a part of the One Line Universe.
INFINITO Studio-Gallery is pleased to announce an exhibition of sculptor
KEN HIRATSUKA
BALLS
MAY 26th - JUNE 2nd, 2016
Opening reception: Thursday, May 26th, 2016 (6pm - 9pm)
Gallery hours: 11am - 7pm, by appointment only:
(347) 266-6803
ABOUT THE ARTIST
Sculptor Ken Hiratsuka was born in 1959 in Shimodate City, Ibaraki Prefecture, Japan. He graduated in 1982 from Musashino University of Art in Tokyo.
In the same year, Hiratsuka came to New York City, received a fellowship from the Art Students League, and embarked on his life work of carving one continuous line in stone around the world. Committed to art for everybody, Hiratsuka began sculpting the slate and granite sidewalks of New York City, becoming a well-known figure in the Street Art Movement of the 80's.
Driven by his vision of art's capacity to transcend the differences of nations and languages, Hiratsuka moved beyond the street to create site-specific works in different countries, often living with the people and incorporating local cultural stories and icons into the carvings. There is a juxtaposition of the primitive/simple and the sophisticated/complex in Hiratsuka's lines, a disruption of ancient and modern. Hiratsuka's work can now be seen in permanent public sites in both urban and natural environments in 21 countries, to date.
His work is included in museum collections in Finland and Japan. Commissioned works include sculpted city sidewalks, building facades and entranceways, water sculptures and gardens. Public monuments include his 12 boulder "Peace Monument" for the Japanese Gardens of Cowra, Australia; "One Line Tower" – 40 tons x 30 ft. high -- in Yuzi Paradise Sculpture Park in Guilin, China; "One Line Boulder", a 2004 commission for the city of Chikusei, Japan; "River," a 100-ft long carved granite sidewalk at 25 Bond, NYC.
From the inner city, to the desert, to the coastline, Hiratsuka's stone works are characterized by maze-like designs of infinite variation, always formed by one continuous line that never crosses itself. Hiratsuka often refers to his works as "fossils of the moment." They are both modern and ancient, a symbol of human communication through universal language on the surface of the earth as one huge rock.
"I hope that those who see my work will discover new aspects of life, deeper levels of experience of which they may be only dimly aware. I want to inspire people to become more conscious of nature and our common humanity. No matter how lifestyles change, the basic self remains the same. I want to help bring human beings together. In my art there are no social, economic, cultural or political distinctions. We are all one." Ken Hiratsuka
Please visit kenrock.com for more information on the artist.