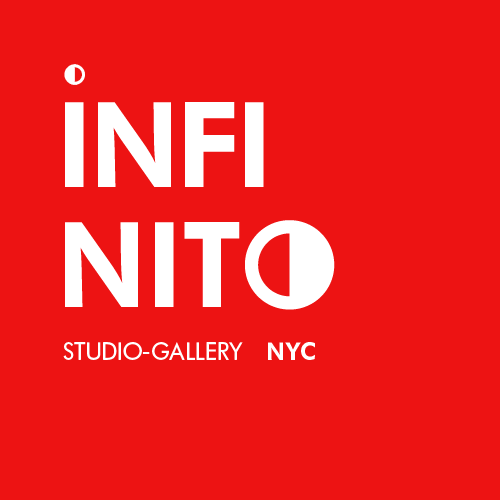 TWO PIONEERS OF NEW YORK STREET ART
AT THE EDGE OF THE WORLD - DOCUMENTARY NIGHTS
First screening October 23rd, 2015 - 8:00 pm
© 2015 TRIBECA UNDERGROUND
ALL RIGHTS RESERVED . CREDITS
FOLLOW US ON:
FACEBOOK
TWITTER
ISTHAGRAM
TRIBECA UNDERGROUND
79 LEONARD STREET
NEW YORK, NY 10013
+1 (212) 925-7345
BY APPOINTMENT ONLY
© 2015 INFINITO
ALL RIGHTS RESERVED
INFINITO presents

AT THE EDGE OF THE WORLD
Twelve documentary nights at INFINITO
SUGGESTED DONATION:
$5 or a bottle of wine!
RSVP: info@infinitonyc.com

ABOUT THE EVENT

Sebastiano Tecchio, filmmaker and partner of INFINITO Studio-Gallery, has selected twelve films for our documentary nights:
"I have chosen 12 films that I love and that, in some way or another, have helped me broaden my horizons as a filmmaker. Though very different for content and style, these twelve films show us the narrative power of real-life stories. But while they all portray reality, they are not in anyway limited by it. Quite to the contrary, they are a feast of ingenuity and filmic creativity.
I have called the series "At the edge of the world", because a documentary is a journey to the frontier, an exploration of our limits both as individuals and as a society."
Sebastiano Tecchio
THE FILMS
HEARTS OF DARKNESS - Fax Bahr, George Hickenlooper and Eleanor Coppola - Friday October 23rd - 8pm
An intimate look at the making of Francis Ford Coppola's 1979 classic Apocalypse Now, Hearts of Darkness: A Filmmaker's Apocalypse combines the usual documentary interviews with outtakes from the film and rare documentary footage, some shot on the set by Eleanor Coppola. Not long after the arrival of Francis Ford Coppola and crew in the Philippines, the shooting schedule begins spiraling out of control; the
film's cost has soon far surpassed the original budget, with the ending still unwritten. As the problems mount, from lead Martin Sheen's heart attack to the disappearance of several helicopters needed for a scene (because they went to fight in a nearby war), the making of the film begins to frighteningly resemble its subject -- an unending tale of madness and obsession in the jungle.
TISHE - Victor Kossakovsky - Sunday November 1st - 6pm
Director Victor Kossakovsky describes this film as "a comedy." Tishe! was inspired by both the first picture in the history of photography, View from the Window at Le Gras (1826-1827) by Nicéphore Niépce, and the short story Des Vetters Eckfenster (My Cousin's Corner Window, 1822) by E. T. A. Hoffman. The latter tells the story of a paralyzed man whose sole contact with the outside world is the view from his window. Kossakovsky made what he calls an
"accidental" film: "We don't normally look at things that are right in front of us. This is in a way an example of what can evolve right in front of your eyes if you care to look." From his apartment window, he filmed a St. Petersburg street over the course of a year, during endless roadwork in preparation for the city's 300th anniversary celebration in 2003. Time and again, the street is ripped open and repaved. The film shows each repair from the same point of view, but with different lenses, at various times of day and in varying styles - realistic, surreal, abstract. Tishe, which is Russian for "Hush," is the only word spoken in the film.
GRIZZLY MAN - Werner Herzog - Sunday November 8th - 6pm
One of the recurrent elements in Werner Herzog's oeuvre is the search for the obsessive side of man. In this respect, Timothy Treadwell, an actor with questionable social skills who reinvented himself as an animal lover, fits seamlessly into Herzog's gallery of passionate people. For 13 years, Treadwell obsessively protects a group of grizzly bears every summer in a wildlife reserve in Alaska. Meanwhile, he immortalises his unsolicited animal welfare work on
video. Until the day he and his girlfriend are devoured by one of the wild bears. The irony of Treadwell's death and the 100 hours of video footage he left behind, inspired Herzog to make a nature film in which the bears only play supporting roles. The imposing landscapes of Alaska, filmed by Herzog's crew, are scrupulously alternated with Treadwell's video diary and the images he made of "his" bears over the course of 13 summers. Richard Thompson's soundtrack is the final ingredient in a bizarre portrait of a man whom Herzog views as a fellow filmmaker to the end.
MR. DEATH: The Rise and Fall of Fred A. Leuchter, Jr. - Errol Morris
Sunday December 13th - 6pm
Fred A. Leuchter Jr., an engineer from Malden, Mass. decided to become the Florence Nightengale of Death Row – a "humanitarian" whose mission was to design and repair, electric chairs, lethal injection systems, gallows and gas chambers. In 1988, Ernst Zundel, publisher of Did Six Million Really Die? and The Hitler We Loved and Why commissioned Leuchter to conduct a forensic investigation into the
use of poison gas in WWII Nazi concentration camps. Leuchter traveled to Auschwitz and illegally took brick and mortar samples for analysis in order to 'prove' that the Holocaust never happened. Leuchter fully expected his involvement with Ernst Zundel to be the crowning achievement of his career, but instead it ruined him. Reopening the doors to this century's keystone atrocity. Morris by-passes a more obvious discourse on bigotry to examine instead the origins of evil in vanity and self-deception.
THE THIN BLUE LINE - Errol Morris - To be scheduled
Errol Morris's unique documentary dramatically re-enacts the crime scene and investigation of a police officer's murder in Dallas, Texas. Briefly, a drifter (Randall Adams) ran out of gas and was picked up by a 16-year-old runaway (David Harris). Later that night, they drank some beer, smoked some marijuana, and went to the movies. Then, their stories diverged. Adams claimed that he left for his motel, where he was staying with his brother, and went to sleep.
Harris, however, said that they were stopped by police late that night, and Adams suddenly shot the officer approaching their car. The film shows the audience the evidence gathered by the police, who were under extreme pressure to clear the case. It strongly makes a point that the circumstantial evidence was very flimsy. In fact, it becomes apparent that Harris was a much more likely suspect and was in the middle of a crime spree, eventually ending up on Death Row himself for the later commission of other crimes. Morris implies that the DA's and the judge's desire for the death penalty in this case (for which Harris would have been ineligible because of his youth) made Adams a scapegoat on whom to pin this heinous crime.
LET'S GET LOST - Bruce Weber - To be scheduled
Let's get Lost is a penetrating Oscar-nominated documentary on the life of jazz trumpeter Chet Baker (1929-1988). After a generous amount of screen time devoted to Baker's American career, from his days with Charlie "Bird" Parker and Gerry Mulligan to the formation of his own combo, the film dwells upon Baker's lengthy tenure in Europe. In-depth interviews with Baker's friends and co-workers paint a portrait of a troubled genius, whose drug addiction
and womanizing gradually eroded his talent. Much of the terminal footage is literally that, showing in harsh detail what Chet Baker had become in his last year on earth.
5 BROKEN CAMERAS - Emad Burnat, Guy Davidi - To be scheduled
The first-ever Palestinian film to be nominated for best Documentary Feature by A.M.P.A.S®, the critically-acclaimed 5 Broken Cameras is a deeply personal, first-hand account of life and non-violent resistance in Bil'in, a West Bank village surrounded by Israeli settlements. Shot by Palestinian farmer Emad Burnat, who bought his first camera in 2005 to record the birth of his youngest son, Gibreel, the film was co-directed by Burnat and Guy Davidi, an Israeli filmmaker.
Structured in chapters around the destruction of each one of Burnat's cameras, the filmmakers' collaboration follows one family's evolution over five years of village upheaval. As the years pass in front of the camera, we witness Gibreel grow from a newborn baby into a young boy who observes the world unfolding around him with the astute powers of perception that only children possess. Burnat watches from behind the lens as olive trees are bulldozed, protests intensify and lives are lost in this cinematic diary and unparalleled record of life in the West Bank.
PROJECT NIM - James Marsh - To be scheduled
From the team behind Man on Wire comes the story of Nim, the chimpanzee who in the 1970s became the focus of a landmark experiment which aimed to show that an ape could learn to communicate with language if raised and nurtured like a human child. Following Nim's extraordinary journey through human society, and the enduring impact he makes on the people he meets along the way, the film is an unflinching and unsentimental biography of an
animal we tried to make human. What we learn about his true nature - and indeed our own - is comic, revealing and profoundly unsettling.
JOHN & JANE - Ashim Ahluwalia - To be scheduled
In vast, fluorescent rooms, thousands of ambitious young Indians talk to people in cities and towns across America. Bridging continents by telephone, they pitch products and soothe frayed consumer nerves. As they troubleshoot, they dream of America. As they dream, they change. Welcome to the world of offshore call centers. John & Jane is an astonishing look at the souls of the outsourced. Shot on 35mm and composed with unsettling grace, this documentary finds
an entirely original and fitting language to express the eerie dislocation of virtual work.
sacrifice. Last Train Home is a haunting, vivid documentary exploring the human toll of China's economic boom in intimate, unforgettable detail.
LAST TRAIN HOME - Lixin Fan - To be scheduled
Annually, an estimated 130 million factories workers in China migrate from their city of employment back to the village they grew up in. This documentary spotlights married couple Chen and Zhang as they make their own journey. Chen and Zhang must struggle to reconnect with their children, whom they see only once a year. When they discover that their daughter has decided to drop out of school to work at a factory herself, they begin questioning the value of their
OUR DAILY BREAD - Nikolaus Geyrhalter - To be scheduled
Our Daily Bread takes the viewer to places in Europe where our food is produced. Different production processes of various food items are revealed, from olives to steaks and from tomatoes to salt. The sometimes shocking images show how conveyor belts, cutting devices and immense machines determine the rhythm of the process. People, animals and crops seem to play no more than a supporting role in the logistics of food production. As outsiders, we
look at the activities of people who earn a living in this business. Our Daily Bread evokes questions about the consequences for man, animal and environment, and the desirability of modern production methods. Without comment or explanation, surreal scenes are dished up and the distance between consumer and product becomes almost tangible.
TITICUT FOLLIES - Frederick Weiseman - Sunday November 8th - 6pm
Frederick Wiseman made his first documentary, Titicut Follies, in 1967. He locked himself up in the Bridgewater State Hospital in Massachusetts, a psychiatric clinic for convicted criminals. Wiseman had the full cooperation of the authorities, but once they had seen the film, they were furious and turned against him. Controversies concerning the violation of the detainees' privacy led to numerous lawsuits, and Titicut Follies only gets screened occasionally as a
result. The documentary is a shocking portrayal of the treatment of the psychiatric patients, not only by hospital staff, but by society in general. Wiseman films the humiliating, repressive practices without comment or talking heads, in a fashion that has become his trademark.